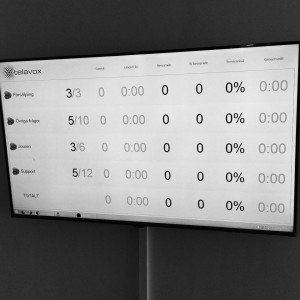 We are committed to providing a high level of service through competent staff and short lines of communication. It has been pointed out many times that it is possible to get in touch with our support quickly, a necessity in case of any malfunction.
Despite the cheers, we never settle and continue to improve our organisation. Next week we will launch a new and smart case management system that all departments will use. This case management system makes it easier to interact between individuals and departments at Ancon. The end result for the customer is faster turnaround times and 100% confidence that nothing will fall through the cracks.
Recently we have switched to Telavox telephony, we can now monitor our phone loops to ensure we don't miss any calls, we can also easily transfer calls to remote employees – essential as we establish offices around Sweden.
We are growing fast and are now 18 people at Ancon with full focus on service and development of new cool solutions!
Welcome to contact us at: 0523-131 00 or any of the following e-mail addresses:
Sales: sales@ancon.se
Finance: ekonomi@ancon.se
Support: support@ancon.se