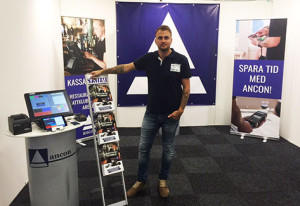 The Lysekil company Ancon AB is investing and today recruited another system developer. In total, the company has recruited six new employees in 2015, including four positions in Lysekil. The company develops IT solutions for the restaurant industry and has recently expanded to Stockholm and Gothenburg. The total workforce amounts to 20 employees with headquarters in Lysekil.
– Our goal is to become the largest in Scandinavia, our latest recruitments give us increased capacity. We are developing the next generation of our IT platform, and in parallel we are building a national sales organisation," says Mikke Hermansson, the company's CEO.
This year, Ancon has recruited two system developers, an inside sales person and a financial assistant for the Lysekil office. In addition, Ancon has recruited regional managers in Gothenburg and Stockholm.
– Our future platform will allow us to take on larger deals and thus accelerate our growth, if all goes according to plan we will need to recruit additional employees in the coming years, concludes Mikke Hermansson.
More information? Contact Mikke Hermansson, 0523-131 00, mikke@ancon.se